Letters to the Maidenberg family in America from the family in Russia, 1956-1993.
Begun in 1956 by Joseph, these letters are the core documents of the Maidenberg family.
Each letter has a content description, and the overall file is searchable.
---
This is a journal with photos of Mike's 1996 trip to Ukraine and Moldova, where he met with Amnon and other family members, visited gravesites, including that of the patriarch Solomon in Dzygivka, and gathered a rich trove of information about the Maidenberg family.
An accompanying video of the 1996 trip can be viewed here.
---
Yefim Rozenberg, whom all know as Fima, is the grandson of Malkeh Maidenberg, eldest of the seven children of Solomon and Perel. His mother was Frida Balaban, his father was David Rozenberg. (Because Fima has choosen to spell his last name with a "z", this practice is followed. Others in the family go by "Rosenberg.")
Fima's detailed, heart-wrenching memoir provides a powerful insight into the lives of those in our family who did not emigrate to America or Canada, but who remained in Russia and the Soviet Union. They faced first the onslaught of the Nazi invasion, then the rebuilding of the country, then the privations (but also possibilities of the Soviet system.)
The memoir was written in Russian. It was translated into English in Odessa. Mike Maidenberg, second cousin of Fima, edited the first part of the memoir, and intends to edit the entire work. The facts have not been changed, only the wording and flow.
---
This profile has useful genealogical information and helpful detail about Ben. The story of how David came to Marion is retold, and this version rings true.
---
Two important dates are shown. 1. the betrothal, on Feb. 26, 1906. The wedding, to take place in Odessa, on April 26, 1906. (In May, Rose becomes pregnant with Meyer. In June, Rose and David sail from Liverpool to America, arriving June 30.) The document confirms "Shlomo" or Solomon as father of the groom. The groom is David. The bride is "Rakhel", to become Rose in America. The brother of the bride is mentioned: Tsvi Vinokur. Could this be the "Harry Vinokur" who also came to America, and lived in Marion for some time? The witness for the groom is Yehuda Meir, son of Avraham Yehoshua Heschel Roitman. This name is not recorded in our genealogical files. Perhaps a friend of David's? Witness for the bride is Avraham son of Menakhem Nakum Vaisberg. This name is also not recorded in our genealogical record.
---
David and Rose engagement agreement, Odessa, 1906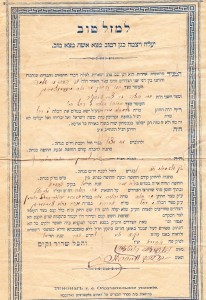 (View Larger Version)
Known as a "Taniem" in Yiddish. It is a betrothal agreement, executed in Odessa. The names and dates on the agreement are fascinating. See the translation. This was obviously an important document for David and Rose, who brought it to America and preserved it. My father, Milt, came into possession of it and passed it along to me.
---
The Declaration of Intention of Becoming a Citizen was a key legal step that immigrants needed to take. It appears David filed his as soon as he settled down in Marion, November 4, 1913. It gives his date of birth as Oct. 15, 1884, which is the date I have entered in the official record. However, the Declaration has the wrong date for arrival in New York, and misspells the vessel. David's occupation is given as "salesman", a more polite term for peddler. In filing the Declaration, David and others had to "renounce forever all allegiance and fidelity to any foreign Prince, Potentate, State or Sovereignty" and to swear he is neither an anarchist or polygamist. David was naturalized as a U.S. Citizen on August 6, 1920. His occupation at the time of naturalization is recorded as "merchant", an upgrade in title from the salesman of 1913.
---
The date of issuance is February 9, 1921. David is 36, Rosa is 35. The family resides at 1315 West 4th in Marion. David was formerly a "subject of the Russian Empire." This precious document passed from David to his eldest son Meyer to Meyer's daughter Vicki, who sent it to Mike for placement on the website.
_____________________________________________________________________________________________________________________________________________________________________
In October, 1940, President Franklin Roosevelt ordered a selective service draft. After the U.S. entered the war on December 8, 1941, a new act required that all men between ages 18 and 65 register, evidently should the need for a mass mobilization arise. In a database called the Fourth Registration, sometimes referred to as the "old man's registration", David's record appears. The registration took place on April 27, 1942.
On page one of the record, David is listed as 52 years old. His birthday is different from other records, proving mainly that he really did not know what it was. His birth place is spelled "Dvegobka."
On page two, his height is given as 5′ 6″, and weight as 173 pounds. He has blue eyes. That the small in stature David and even shorter Rosa produced four strapping six-foot plus sons is a testament to the freedom (and nutrition) the couple found in America.
---
In 2015 Mike engaged a researcher to search archives in the regional center of Vinnitsa, Ukraine. He found the birth records of David's younger brother Joseph and younger sister Esther. The records show that Solomon was a resident of, or registered in, Beltsy, now in Moldova, part of the region of Bessarabia. Read Mike's essay.
---
Milt's birth certificate, Philadelphia Dept. of Public Health. Residence was 324 Carpenter St., in the old Jewish neighborhood of Philadelphia.
---
This remarkable document provides a wealth of information. It gives Rose's place of birth: "Roshkiff, Podolska, Russia." This is Rashkov, now in Moldova, but in Russia when Rose was born. "Podolska" is the province or guberniya of Podolia. It is on the east bank or historically Russian side of the Dniester River. It is 60 miles from Dzygovka, where David was born It gives her birthday as April 5, 1885, which squares with her age recorded on her arrival (21 in 1906). The accuracy of her memory in relating facts is impressive: arrival in New York in June, 1906; the name of the vessel—"Lukandi" in her memory, "Lucania" in actuality. The document says a U.S. Passport was issued to her in Odessa. This is an error. Perhaps she is referring to a "shipcard" or similar travel document that allowed her and David to pay their way to America. Her last residence is Odessa. She was coming to see Ida Feldman (Tante Haika) in Philadelphia. She says left for America from "some port in France", but there is a question mark added. We know the Lucania sailed from Liverpool. Did Rose and David reach Liverpool through France? Other family memories have them going through Hamburg, Germany, a more traditional route. But I have not been able to locate them in Hamburg records. It is tantalizing to think that Rose's memory was accurate, and that the route through France was taken because of a Maidenberg relation there. The name of Rose's father is given: Mayer, 1849-1899; and her mother, Fanny, ? – 1895. David's birthplace is given as "Zegeefka", his date of birth as June 1, 1883, although the month and date both have question marks.
[This document was obtained in 1977 by Meyer Maidenberg's daughter Vicki, and was then circulated to the family. Mike's father Milt passed it along to him. Mike was able to use the information to find the 1906 ship arrival record.]
---
This manifest shows "David Masinberg" and "Rose Masinberg" arriving in New York on June 30, 1906, aboard the vessel Lucania, out of Liverpool. I don't have a record of the departure date, but the crossing normally took a week. David is 22, Rose is 21. His occupation is listed as "laborer", hers as "servant". Their nationality is Russia, their "race" is "Hebrew". They claim to be in possession of $15.00. Their last residence is hard to decipher, but it appears to be "Lvov". This makes sense, because the city of Lvov was then in the Austro-Hungarian Empire, and was a rail center. They say they are going to a "friend", Ida Cohen, in Philadelphia. Ida, or Tante Haika, was actually a relative, David's aunt. She was the sister of David's mother Perel. The address of Ida Cohen is not clear, but it appears to be 320 Gaskill St., which is consistent with other information regarding where Tante Haika lived. These manifests were filled out by the ship's purser, not at Ellis Island. It seems that "Masinberg" (with an "s" or "z" sound) represents how the purser heard David pronounce his name. The ship's surgeon had to affirm that none of the aliens coming to America was an idiot, insane, anarchist or polygamist, and that none "is likely to become a public charge."
---
Sent out to the family on November 16, 2013. Mike and Kitty screamed when they finally found the ship arrival document.
---
Ship arrival record for David and Rose, 1906

Shows only David and Rose's entries.
---
To my disappointment, no additional information was found. This note is retained so as to show any other researcher what files and archives have already been checked.up to the year 2000.
---
Frank, then 77, was interviewed in Madison by a friend of Jill's who was a skilled interviewer. The actual recorded interviews can be heard in the Audio section of this website. This document has Mike's notes about Frank's comments and observations. There are some wonderful details: Like in Dzigivka was just Fiddler on the Roof, the bad (pogroms) as well as good…David and Rosa sold baked goods in Odessa…Frank had a Hebrew name, "Frayn"…there was a breakdown in family communications after David sent Joseph $1,500 to come to America, but Joseph stayed, and didn't return the money…David read "Der Tog" Yiddish newspaper…Frank tells story of the two Marions when his father came west, adds details…he also has David in New York rather than Philadelphia, which doesn't square with Census…touching stories doing business in Gas City…little overt anti-Semitism, occasional crack about the "Jew peddler"…the Yiddish nicknames for all the brothers, all teasing and revealiing…how National China came to be…Mom and her ways…Jewish life in Marion…had a bar mitzvah…long, long traditional seders…at one time 50-60 kids in Sunday School…meeting Nan, the girl next door…Zimmerman family saw Maidenbergs as from the other side of the tracks, but approved the match…Depression was hard for Pop, touch and go financially…the Army…Nan's illness and death…civic activity, desire to make world better…fundamental optimism.
---
This shows that a ticket was purchased in 1914 by Ida Feldman, "Tante Haika", for Esther. The ticket was sent to Solomon Maidenberg in Dzigivka. Note spelling given as "Meidenberg". The ticket, which for some reason was never used, was from Bremen to Philadelphia. Esther and her husband Morris would later emigrate, but had to go to Canada. The 1914 ticket was purchased through the Rosenbaum Bank, an "immigrant bank" in Philadelphia. From Ancestry.com: In the port cities on the east coast of the United States in the late 19th and early 20th century, many charitable organizations aided immigrants arriving from Europe. The Hebrew Immigrant Aid Society (HIAS) was one of those organizations. There were "ethnic" or "immigrant" banks in many port cities, usually conveniently located in the Jewish neighborhoods where newly-arrived immigrants tended to settle. These banks were commercial enterprises, started mainly by established German Jews, as a place where recent immigrants could save money and arrange to purchase steamship tickets to bring their families to the United States. HIAS preserved the original records of some immigrant banks formerly operating in Philadelphia, Pennsylvania: Blitzstein, Rosenbaum and Lipshutz/Peoples Banks.
---
Four letters from Phyllis (Vinokur) Wolberg about Jewish life in Marion 1914-20, with loving portraits of her Aunt Rosa and Uncle David, sharp remembrances of an immigrant family in the small Midwestern town, and an account of how David and Rosa met and married in Russia.
---
Recollecting the frozen coal pile and the outhouse of his youth. He recounts the story of an altercation with Milt about a crack in a toy liberty bell. Milt's letter to the editor in rebuttal is included.
---
This letter is the source of the story about David wanting to go to Columbus, Ohio but winding up in Columbus, Indiana. It also relates the story of David's anger with his brother Joseph, to whom David sent money to come to America, but Joseph reneged, keeping the money. Tante Haika is mentioned as coming to David's funeral by herself, at the age of 80. Meyer congratulates Milt on his retirement.
---
Meyer lets Milt know he is "on the count-down" with lung cancer. He also says he is moving back to Indiana, and lets loose on Florida. Reading the letter, I could visualize Meyer's brusqueness combined with his sensitivity and intelligence.
---
This is the map and schedule at the time of David Maidenberg's emigration west from Philadelphia to Marion, Indiana. It does not support the legend of his getting off at Marion, Indiana when he wanted to get off at Marion, Ohio; nor does it support the story of his getting off at Columbus, Indiana when he wanted to get off at Columbus, Ohio. The Marions were not on the route, nor were the Columbuses. The mystery endures.
---
Sylvia, granddaughter of Joseph Meidenberg, tells Milt her grandfather was David Maidenberg's uncle, i.e., brother of Solomon. It seems likely this is the case.
---
This letter was written by Dora as part of a job application, which would take her to Moscow.  It has information about her parents, Elkeh and Melech, and about her sister Fanya. It contains a sinister phrase that brings to mind the era of Stalinist persecutions.  (Dima Rosenberg translation, with additional editing by Mike Maidenberg.)
---
This oddity (to us) was discovered in 2010 by a friend of Toby's.  It is of genealogical import because it shows the surname Maidenberg in use many centuries ago.
---
From "Do it now" to "Do not stand at my grave and weep" to "Everyone's thin in the nursing home", a collection of sayings and verse beloved by Milt and Irma—and their children.  They are a window to personality and philosophy. You'll learn about the Three Stages of Life, contemplate the Moving Finger, and compare Little Nell with Little Fan.  Sayings and verse help guide us through life. We all need guidance because, after all,  "If you don't know where you're going, any road will take you there." Read More
Links: